Ph.D., D.Litt.

Professor Andrzej Lesicki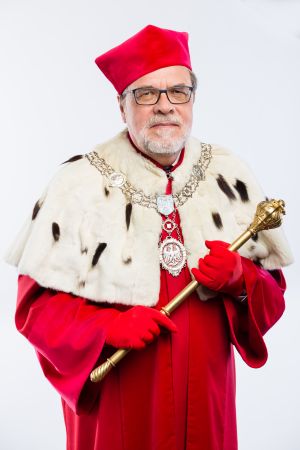 Responsibilities::
Manages AMU;
Represents AMU;
Convenes and chairs meetings of the AMU Senate;
Shapes AMU HR policy;
Formulates rules for cooperation with national and international institutions;
Establishes, transforms or dissolves organizational units;
Appoints AMU professors and other university officials;
Implements AMU schedule of works and expenditures;
Supervises AMU financial and business activity, and university administration;
Conducts internal audits at AMU;
Appoints and supervises Academic Staff Disciplinary Officers;
Coordinates civil defense;
Decides on matters specified in the Act on Higher Education and the AMU Statut.
Contact:
Tel: 61 829 43 92, 61 829 43 08
E-mail: andrzej.lesicki@amu.edu.pl
Collegium Minus, ul. Wieniawskiego 1, Rector's Office
Office hours: every Wednesday, Thursday and Friday, 12pm-2pm by prior arrangement at 61 829 43 08.