Excellence Initiative - Research University
30 October 2019 - AMU one of the winners
of the "Initiative of Excellence - Research University" competition
organized by the Minister of Science and Higher Education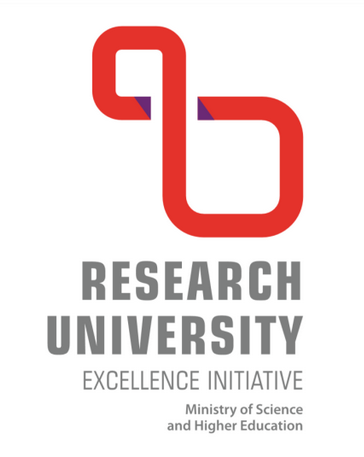 Excellence Initiative - Research University homepage
Priority Research Areas, Calls, Supported Actions ... learn more about these exciting initiatives by visiting ID-UB homepage!
view now!
KEY INFORMATION ON THE "INITIATIVE OF EXCELLENCE – AMU RESEARCH UNIVERSITY" PROJECT
Strictly defined participation criteria – short list of 20 universities
AMU among 10 winners of the ID-UB project
Very high assessment of AMU application by a team of international experts
Adam Mickiewicz University in Poznań is among the elite group of 10 universities who were awarded the title of research university in the Research University Initiative for Excellence (ID-UB). As a result, it will receive a 10% increase in funding between 2020 and 2026. The money is intended to help improve the quality of research, boost teaching and increase international cooperation.
The final list of research universities was selected by an international team of experts.
Criteria


The application was assessed on four criteria:

1. substantive quality of the application,
2. relevance of assumed objectives to enhancing the international significance of the university's activity,
3. adequacy of described actions to the assumed objectives,
4. potential of the university

Competition outcomes

High 3rd place among the winners, ex equo with Jagiellonian University, Warsaw University of Technology and AGH University of Science and Technology.
Project implementation period - years 2020-2025 + year 2026
Amount of annual grant increase - 10% of the funds allocated for 2019; for AMU this means PLN 49.9 million per year

Purposes

The additional grant can be used for:

Increasing the impact of research at the university on the development of world science,
Strengthening research cooperation with internationally renowned scientific institutions,
Improvement of the quality of education of students and doctoral students, especially in the Priority Research Areas (PRAs),
Preparation and implementation of comprehensive solutions for the professional development of university staff, in particular young scientists,
Improvement of the quality of university management, including pro-quality organisational changes

Programme of development

Programme of development based on a reliable SWOT analysis with indication of Priority Research Areas
Programme of development described in terms of 10 strategic objectives, 57 specific objectives and 45 actions
Actions funded in accordance with the programme of development and the agreed schedule of actions,
Programme implementation within the framework of 5 Priority Research Areas and through university-wide actions (e.g. actions related to education of students and doctoral students)
Priority Research Areas, according to the ASJC classification of disciplines

Priority areas

PRA 1 AgriEarth: Agricultural and Biological Sciences, Earth and Planetary Sciences


PRA 2 BioGenMol: Biochemistry, Genetics and Molecular Biology


PRA 3 ChemMat: Chemistry, Materials Science


PRA 4 MathPhysComp: Mathematics, Physics and Astronomy, Computer Sciences


PRA 5 HumSoc: Arts and Humanities, Social Sciences

Implementation periods

Project implementation in four periods:

Pre-implementation period, October 2019 - February 2020
First implementation period, February 2020 - December 2020
Second implementation period, January 2021 - December 2025
Third implementation period, January 2026 - December 2026

Contact

For additional information please write to ID_UB@amu.edu.pl
Excellence Initiative Project People
Who are we?
Find out!