Open Humanities Center - Law and Literature
Centre for Open Humanities (COH) is a research unit founded by lawyer Professor Anna musiała and literary scholar Professor Przemysław Czapliński. Outside of its research function, the centre is a discussion forum that connects Adam Mickiewicz University and the community of Poznań. it is a meeting platform for researchers from various scientific fields and a centre helping diagnose the problems of the community.
COH was created to study the relationship between law and the humanities. The research addresses concerns over the isolation of the law from community life and the often divergent interpretations of legal texts. Understanding and strengthening the relationship between the law and the humanities is essential for resolving this issue, which is a problem not only in Poland, but also worldwide.
Centre for Open Humanities organises debates on important social issues.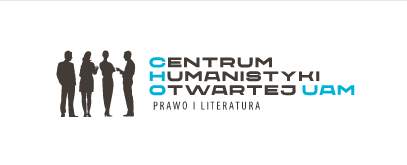 click image to visit our site (Polish version only)
Director: prof. Przemysław Czapliński, czaple@amu.edu.pl
Secretary: prof. Anna Musiała, musiala@amu.edu.pl
Address:
ul. A. Fredry 10, 61-701 Poznań
tel. + 48 61 829 41 04
email: cho@amu.edu.pl