Faculty of Archaeology
The Faculty of Archaeology (formerly Institute of Archaeology) is one of the oldest scientific institutions at Adam Mickiewicz University, working since 1919. Its founder and first head was professor Józef Kostrzewski, one of the founders of Poznan University in 1919. It became an independent faculty in 2019. Among its alumni are numerous eminent professors, members of many local and international associations, scientific organizations and leading specialists from almost all important archaeological institutions in Poland.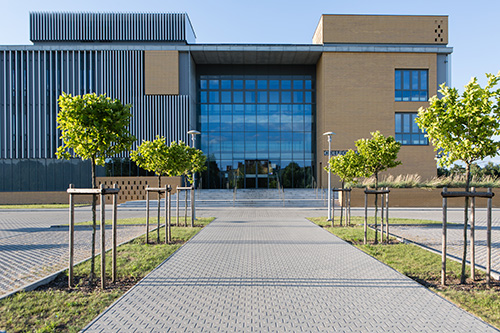 The AMU Faculty of Archaeology has been conducting extensive field surveys, comprising at the first stage, Wielkopolska and the Kuyavia regions, as well as Pomerania. Archaeological investigations in Middle Pomerania and the Kuyavia regions, over the last 25 years, were dominated almost exclusively by the research activities of the Faculty. One of the most important recent activities of the Faculty, was its considerable contribution to extensive rescue of archaeology projects connected with the construction of the Jamal gazpipe to Western Europe, as well as, the network of new highways.
Of great importance was the Faculty's study of methodological and theoretical frameworks of archaeological enquiry, as well as, its interest in a broad range of interdisciplinary studies, including bioarchaeology, petroarchaeology and archaeometry. These have turned out to be very stimulating for the development of the whole spectrum of issues in Polish prehistory. Another important element of the Faculty's scientific activities, has been the south-east frontier of the Nordic circle and archaeological cultures of Eastern Europe.

The Faculty takes an active role in various international exchange programmes with archaeological institutions from Europe and Asia. The co-operation also covers a joint editorial activities, such as a series of Baltic-Pontic Studies, published with the Ukrainian Academy of Science.

The Faculty of Archaeology consists of six separate entities, realizing their own research projects and characterized by different specializations. These are:
Department of Ancient Civilisations of the Mediterranean
Department of Iron Age
Department of Prehistory of Central and Eastern Europe
Department of Stone and Bronze Age
Department of Theory and Methods in Archaeology
Laboratory of Bronze Age Mediterranean Archaeology
The most important research topics realized by the Faculty are:

- environmental conditions of the oldest settlement systems in Central Europe,
- synthesis of the early Bronze Age,
- cultures of the Roman provinces,
- architecture's studies of post-Cistercian monuments,
- theoretical and methodological framework of archaeological enquiry,
- cultural links between Mediterranean and Central Europe,
- some aspects of archaeologies of chosen regions out of Europe.
Did you know that ...
... Archeologists love football?
The UAM Diggers team, an informal football team of the AMU Institute of Prehistory, was established in 2007 in preparation for the 1st Intercollegiate Championship of Polish Archeologists in Football - ArcheoCup. In some tournaments they also played as UAM Kopacze ("Diggers", or "Kickers" in Polish), while in the university league they play under the name Archeo Dranie ("Archeo Rascals")
Majors offered to prospective students
Prehistoric and Medieval Archaeology

Oriental and Classical Archaeology

Archaeology Heritage
watch video (Polish version only)