Faculty of English
The AMU Faculty of English (Wydział Anglistyki, WA) is the largest centre of English Studies in Europe. Its long history translates into extensive experience in teaching and numerous research achievements.
Teaching
We offer full-time and part-time B.A. and M.A. programmes in English Studies (with a wide variety of specialisations), full-time B.A. and M.A. programmes in Dutch Studies, a B.A programme in English linguistics: Theories, Interfaces, Technologies, a B.A programme in English Studies: Literature and Culture, a B.A. programme in English and Celtic Studies, as well as a B.A. programme in English and Chinese Studies. In 2021, to respond to the needs of the market, we have added two new programs: an MA in English Studies: Language-Mind-Technology and an MA in English Studies: Language and Communication in Healthcare.
PhD studies are available in the Doctoral School of Languages and Literatures. Professors from the Faculty of English are eminent supervisors of doctoral dissertations in Linguistics, Literature and Culture Studies. Moreover, we offer Postgraduate Studies in Specialised Translation with Polish and English as working languages.
The Faculty has around 1,300 full-time and part-time B.A. and M.A. students. The versatile and attractive teaching offer includes Linguistics, Literature, EFL Methodology, specialist courses (e.g. Information Technology and voice coaching), courses in English as a Foreign Language (EFL), and other language courses.
Our students acquire a near-native like command of the language that is now the lingua franca, a prerequisite for further professional development.
Graduates of the AMU Faculty of English are respected employees and colleagues, showing both linguistic excellence and supreme skills needed for their chosen professional careers. The AMU Faculty of English has been consistently awarded the highest research and teaching categories by the Academic Accreditation Committee and the Polish Accreditation Committee.
Our best students can apply for scholarships from the 18 European universities we cooperate with in the Erasmus programme: Aveiro (Portugal), Bielefeld, Bamberg, Manheim and Munich (Germany), Helsinki (Finland), Kristiansand and Tromsø (Norway), Trieste (Italy), Vigo and Murcia (Spain), Vienna and Klagenfurt (Austria), Paris (France), Bacău (Romania), and Limerick (Ireland). The list of exchange partners is supplemented on an ongoing basis.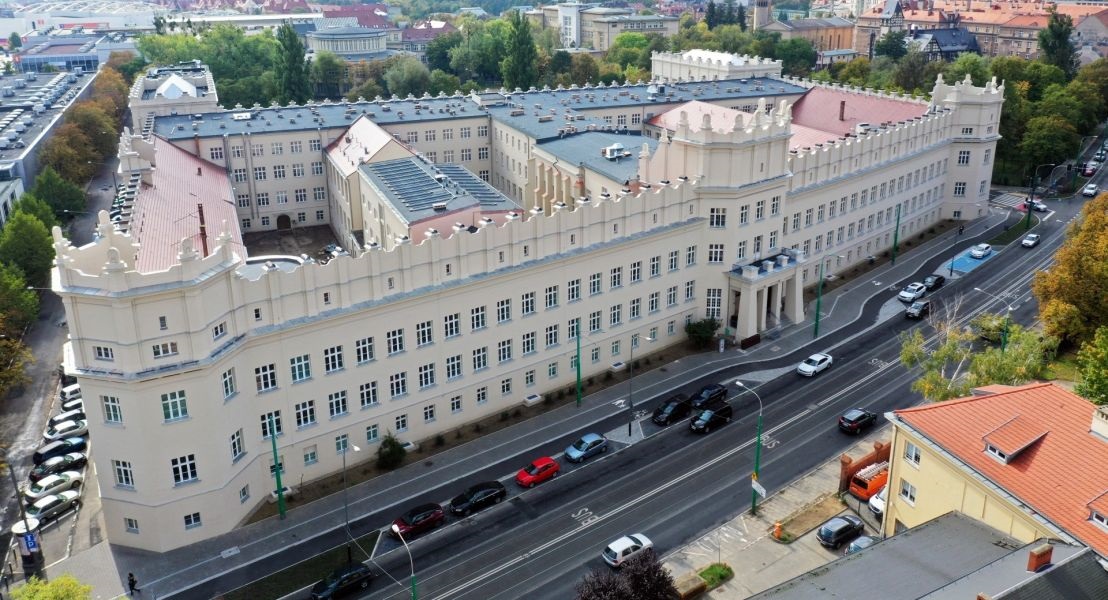 Collegium Heliodori (Święcicki) – ul. Grunwaldzka 6
Our Reading Groups are platforms for academic debate where students are encouraged to develop their research interests already during their undergraduate years. The reading groups discuss issues such as phonetics and phonology, syntax, psycho- and neurolinguistics, lexicography, the history of English, British literature in English, US literature, and translation studies.
Facilities
Our library of 100,000 books and 80 scholarly journals is the largest collection of English language publications in Poland.
It moreover boasts a large number of specialist dictionaries (including valuable Old English ones), encyclopaedias and other reference publications. Its holdings include manuscripts, microfilms and electronic publications, e.g. linguistic corpora.
Faculty of English students have access to cutting-edge study resources.
The WAMU Moodle platform supports full-time and part-time courses with elements of e-learning.
The Faculty has training labs for teaching pronunciation and simultaneous interpreting.
We employ experts in various fields of language studies, literature and culture. Our list of departments reflects the wide scope of research projects undertaken by the Faculty staff and the range of courses and seminars taught.
In the last months of 2021, the PoLa laboratory opened in the department. PoLa stands for the Laboratory of Psychophysiology of Language and Affect.
It's a place where patterns of neuronal activity and electrodermal activity are studied using electroencephalography (EEG) and skin-galvanic response (GSR). The research is intended to help understand how we communicate emotions, whether speaking in different languages, making decisions or thinking creatively.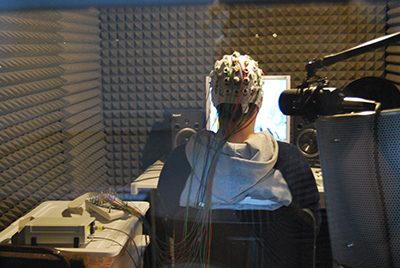 The premium quality research conducted at the Faculty of English is reflected in the publications of our staff in renowned journals and publishing houses, the organisation of and participation in international conferences, the scholarships and numerous awards and distinctions granted to faculty members and their membership in professional societies. No wonder Poznań is recognised as the heart of English Studies not only in Poland, but also across continental Europe.
The above is furthermore proved by the great number of prestigious international conferences organised by the AMU Faculty of English. Such conferences include the following:
The Faculty of English publishes the following scholarly journals:
Moreover, scholars from the Faculty of English have been editors of three book series published by Peter Lang Verlag, Frankfurt/Main:
Our team of lexicographers have compiled several dictionaries, e.g. the two-volume New English-Polish and Polish-English Kosciuszko Foundation Dictionary, currently the largest English-Polish, Polish-English dictionary, as well as the Longman «Współczesny» English-Polish, Polish-English Dictionary and the Collins English-Polish, Polish-English Dictionary.