Faculty of Arts Studies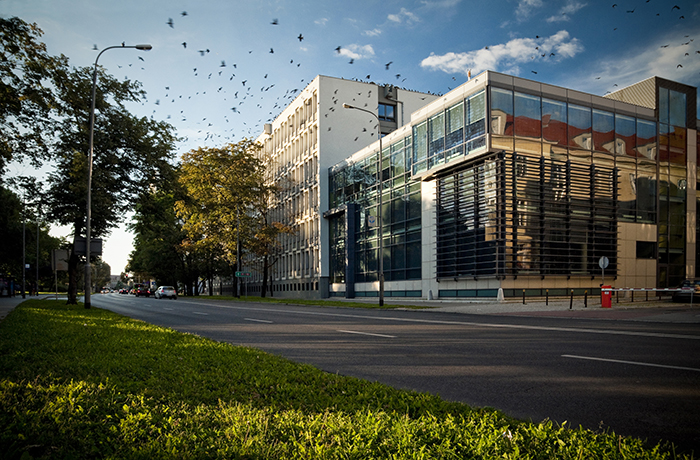 The Faculty, composed of two main units: Institute of Art History and Institute of Musicology, although established in 2019, refers to a long and rich tradition. Both history of art and musicology have been present at AMU since 1919.
The AMU Faculty of Art Sciences was established in 2019 due to reorganization of faculties. Its opening was possible thanks to the fusion of Art History Institute and Musicology Institute. Both institutes have played an important role in University's activity.
Students can start remarkable journey into the world of Arts by studying the following majors (in Polish):
Musicology studies allow to acquire knowledge of the history and theory of music in the context of cultural phenomena and develop the ability to analyze musical works of different eras. Graduate receive knowledge and skills in the basic issues of contemporary music criticism in theoretical and practical terms as well as in various types of sources used in musicology, sources containing musical notation, methods used in source studies and the way how libraries and music archives work.
Graduates should know at least one foreign language at B2 level according to the Council of Europe's European Language Description and have the ability to use professional musical terminology in a foreign language.
Dive into the world of music
Students have access to the Grove Music Online database (part of the Oxford Music Online package), which is currently the largest, updated and electronically available scientific music encyclopedia in the world. Its content consists of the last printed versions of the following editions:
The New Grove Dictionary of Music and Musicians, 2nd edition (29 volumes, 2001)
The New Grove Dictionary of Jazz, 2nd edition (3 volumes, 2002)
The New Grove Dictionary of Opera (4 volumes, 1992)
The Norton Grove Dictionary of Women Composers (1 volume, 1994)
The Grove Dictionary of American Music, 2nd edition (8 volumes, 2013)
The Grove Dictionary of Musical Instruments, 2nd edition (5 volumes, 2014)
Students who love music
Students of Musicology get together to practice singing and playing. Ethnomusicologists Section group focuses on ethnic music and cooperates with Musicology Students Research Group. Each holiday (for example Christmas) is an occasion to learn traditional songs. That means studying musicology is being close to the music all the time and discovering it via culture.
International cooperation
Faculty's institute of Musicology is involved in organization of different workshops and meetings. In October 2020 we are exptecting the organization of the third Symposium of the ICTM Study Group on Music and Dance of the Slavic World.
Faculty members support the organization of International Henryk Wieniawski Violin Competition which takes place every five years in beautiful University Concert Hall.
Since 1991 Musicology Institute has been organizing international meetings known as Interdisciplinary Studies in Musicology. In order to show results of these interesting research interactions and discussions, a decision was taken two years later to start publishing a journal. It represents topics from a wide spectrum of music sciences: history, aesthetics, semiotics, cultural anthropology, philosophy, acoustics and psychology, sociology.
The Centre for Research of Music Theatre
The Centre was established in 2011. Its core task is to pursue activities fostering the study and propagation of operatic and theatrical culture, in particular:
1) Conducting interdisciplinary academic research;
2) Organising specialist national and international conferences;
3) Elaborating didactic projects and gathering literature, recordings and illustrations essential to the didactic process.
The Centre for Research of Music Theatre brings together scholars cultivating knowledge about literature, theatre and music within our university; it also works on specific academic and popularising projects with scholars and artists from other institutions and other academic centres, in Poland and abroad.
The Centre offers studies in Inter-Faculty Operological Specialization. Its program focuses on the history, aesthetics and contemporary realizations of opera performances, showed in diverse scientific and cultural contexts. It includes classes in theory, history and aesthetics as well as analysis and interpretation of an operatic work, as well as opera criticism workshops.
History of Arts
Studying Art History is a great adventure. It guarantees not only meeting beautiful objects, but also discovering those which are important for understanding basic civilization processes. It brings highly specialized competences in the field of art history as well as gives general knowledge in the field of various humanities disciplines.
Art History Institute specialists work in four departments:
– Department of the History and Theory of Research on Art
– Department of the History of Contemporary Art
– Department of the History of Modern Art
– Department of the History of Medieval Art
Wide range of possibilities which we offer makes our institution one of the best in Central-Eastern Europe as well as Poland in terms of teaching and research. We provide access to a great library collection for our students and staff. Classes provide the opportunity to better understand the basic problems of the arts from ancient times to the present day as well as a diverse range of specialized subjects. In addition, the program provides students with numerous optional domestic and foreign historical trips.
Graduates of Poznań's history of art find work in the profession (universities, museums, galleries, art market) or other positions wherever education, creativity, knowledge of the world, cultures and languages ​​are valued.
Scientific and communicty building activity
Since 1979 members of Art History Institute have been editing a peer-reviewed academic annual journal Artium Quaestiones. It is regarded as a platform for theoretical and methodological reflection in the field of art history. Various research projectsand doctoral dissertations show wide range of interests of Institute researchers.
In order to promote art history heritage members of Institute have been organizing historical walks for students, citizens and tourists visiting Poznań.
visit our site (Polish version only) or see a leaflet (English version)